Hands-On with Apple's New iCloud App for Windows 10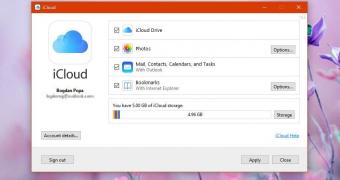 Believe it or not, but Apple is actually quite a fan of Microsoft's modern Windows push, and unlike Google, which has decided to resist the UWP concept, the iPhone maker itself brought a couple of apps to the Microsoft Store.
While Apple has never been in a hurry to release Store versions of its apps, the company recently shipped its second Windows 10 application, as it decided to port iCloud to the Microsoft Store as well.
iTunes was the first app released by Apple in the Store.
iCloud for Windows 10 comes to provide users with a pretty neat way of managing their photos, videos, mail, calendar, and other files stored in iCloud, all from the comfort of their Windows 10 devices.
First of all, here's what you need to install iCloud for Windows 10: