This Windows 11 Mobile Concept Should Launch as an Android Skin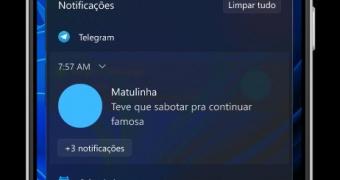 Everybody knows what happened to Windows 10 Mobile and the Lumia lineup of phones, and while Microsoft has given up on its ambitions of creating an Android and iOS alternative, it doesn't necessarily mean users have lost hope a new phone OS could see the daylight.
And the plethora of user concepts out there is just living proof in this regard, with a recently-created Windows 11 Mobile project coming to confirm that a third mobile operating system could still have a lot of fans.
Shared on reddit by BrunoAlvesIV, the concept envisions a modern version of Windows Mobile that is heavily inspired by Windows 11.
Needless to say, this isn't necessarily a new idea, as Microsoft itself is trying to bring Windows 11 and the mobile experience closer together. Android 12L, which recently made its way to the Surface Duo, embraces this approach, as it uses design ideas borrowed from … (read more)

Read the rest of the article
Remember to like our 
facebook
 and our twitter
@WindowsMode
 for a chance to win a free Surface Pro every month.