Best Windows Movie Maker Alternatives for Windows 11
Some of the links in this post are affiliate links. This means if you click on the link and purchase the item, I will receive an affiliate commission at no extra cost to you. All opinions remain my own.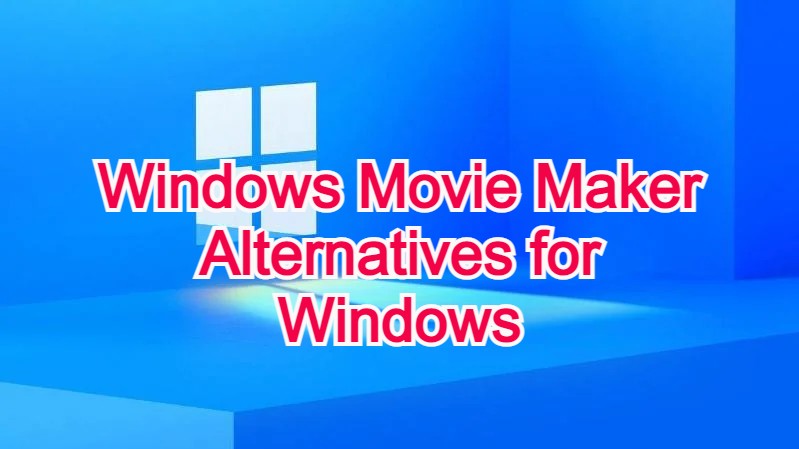 Hello everyone, have you reached your limits with the preinstalled Windows Movie Maker and want to move on to an alternative with more creative options? While Windows Maker indeed has all the basic features you need for making a simple short video, and it is nice to have it for free, however, there haven't been any updates lately, which is why it lacks a lot of cool features and artistic options that its competitors have today.
To assist you with choosing a new slideshow maker in today's huge pool, we have created a list of noteworthy alternatives. In this review, you will find both advanced and amateur software for photo & video montage which will help you make splendid videos. So no matter your skill level and experience, you will surely end up with the right tool that suits your needs.
SmartSHOW 3D is a perfect choice for people who prefer easy-to-navigate programs. Unlike other movie makers, the software has an intuitive interface and doesn't require any previous experience. With SmartSHOW 3D, even newbies can easily make pro-level montages, decorate their videos with creative elements, adjust background sound, and record voice overs. Besides, the program has everything necessary for your creative experiments: a library of royalty-free songs, tons of transitions, nature and motion effects, built-in collages, captions, and whatnot.
Newbies to video editing and those who need an aesthetically pleasing video ASAP can use 600+ premade templates and effects to make a movie for a special event in no time. All it takes is a few drags and drops. Professionals can dive even deeper into montaging and use multiple layers and the 3D camera feature in their movies.
Here are some more helpful features of SmartSHOW 3D:
600+ thematic templates and effects
Library of 200+ royalty-free songs
180+ transitions for a smooth change of scene
Built-in recorder for voice overs
Video and photo overlay for a picture-in-picture effect
Collection of animation effects: Motion, Nature, 3D

Easy output options: DVD, TV, smartphone, YouTube, etc.
SmartSHOW 3D screenshots
Magix Photostory is a good choice for people who spend a lot of time traveling and enjoy capturing their journeys and happy moments on camera. The software offers Travel Maps that allow you to make an animation of your travel from destination to destination with 3D transportation icons. Apart from that, the software has handy tools for editing your video both manually and automatically.
Wish to experience some moments captured on camera? The 360-degree VR video mode will help you and your audience immerse into your video and recreate emotions. However, this feature is available only to premium users. You can still spice up your movie with special effects and embellishments that the program offers or accompany your video with a song from the built-in collection of Magix Photostory. But because of the packed interface, you might face some difficulties with figuring out the functionality of the video editor at first.
Check out some more features of Magix Photostory:
100+ video templates for a quick montage
Travel Maps for engaging journey illustrations
1500+ transitions and artistic effects to funk up your video
Sound tool that allows adding up to 16 soundtracks to your movie
Built-in collection of 50+ soundscapes and songs
4K video export in most formats: AVI, Windows Media, MPEG-4, etc.
Easy online sharing from the program: YouTube, Flickr, and Shutterfly
Magix Photostory Screenshots
Animato is an online video editor that will help busy or inexperienced people create fun montages automatically. It has a bunch of templates for every possible occasion. So all you have to do is choose a template, drag and drop your pictures into it, pick a soundtrack from the program collection, and your video will be ready for sharing. You can also personalize your montage by modifying some elements of the template design: fonts, text styles, transitions, filters, layouts, the color palette, and so on.
The editor also has a handy watermark tool that helps make logos or add premade ones to your videos. That is especially useful if you are making an advertisement for your brand or a business presentation. The downside to the editor is that without a subscription, you can only export your clips with the Animoto watermark on them.
Here is what you get in Animoto:
Intuitive use that requires minimum time and effort
Watermark tool for protecting your copyright or making business videos
Trendy fonts, text styles, frames, and other embellishments
Thematic video templates for any event or occasion
Easy online sharing and export
No extra memory required on your PC
Animoto Screenshots
Adobe Spark is a website-based software that helps make videos and other content for study, work, and leisure. Unlike most other Adobe products, this video editor is super easy to use. It leads you through the whole process of video production and suggests creative ideas you may use for your clip. With Adobe Spark, you can either create a video from scratch or use one of the many video templates that the program has and modify them a bit to make unique clips. What's more, the editor has a convenient slide preview option that you can use for reviewing each of your video scenes individually.
The cloud-based storage of Adobe Spark allows you to keep all your works in one place without having to save them on your computer. That means you can leave your project at any stage and return to it later for further montaging. But keep in mind that if you are using the free version, the editor will place its watermark on your saved clips.
Here are some more cool features that come with Adobe Spark:
Built-in image stock that you can use to decorate your slides
Library of templates for business, education, and family
Photoshop fonts synchronization
Built-in tutorials and video scenarios for an easy workflow
Handy timeline and slide previews
Voiceover tool and a diverse library of music
Adobe Spark Screenshots
Icecream Slideshow Maker is a helpful tool for newbies who just want to make fun videos for their friends, family, or personal archive. This PC video editor allows you to make minimalistic clips in a few simple steps. Import your images and videos, pick music, type in intro and outro captions, apply effects, and there you have it!
The free version of the video editor doesn't have that many transitions and effects. If you update to the PRO edition, you can get more creative options. Still, that won't be enough for making professional clips or marketing videos.
Check out the key advantages and feature the software comes with:
Intuitive workflow for users of all skill levels
Built-in music library, collection of fonts and effects
Export of videos in 4K in popular formats to your PC or cloud storages
Options for burning clips on CDs or DVDs
Icecream Slideshow Maker Screenshots