Some of the links in this post are affiliate links. This means if you click on the link and purchase the item, I will receive an affiliate commission at no extra cost to you. All opinions remain my own.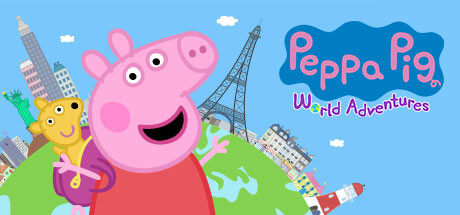 Hello everyone, you can download Peppa Pig: World Adventures for Windows 11 and experience playing a fun, adventurous and interactive game that will keep everyone playing glued to the screen.
Install Peppa Pig: World Adventures on Windows
Download Peppa Pig: World Adventures Window 11/Xbox via Microsoft Store
Download Peppa Pig: World Adventures Windows via Steam
Today we will highlight some reasons why we think you should go ahead and give this cute game a try, whether you are curious to what this game is all about and if your children will like it, we have all the information and then some. First of all I must say, my nephews, nieces and even little cousins, all of them are under the age of 10 love Peppa Pig and everything involved in that universe, shall we say so when we heard this game came out on PlayStation and XBox Series X|S, they quickly wanted me to get the game without even as much as figuring out what the game is about, they simply just wanted it, lol, which I get, Peppa doesn't seem like she can do no wrong in their eyes. Instead of getting it on the consoles, I told them to wait a few days and let me check it out on my PC, I did this because if I get on either console, I won't get to play either console whenever they come over and that will be a problem, if I can get the game for them on PC, at least I know they can use any one of my multiple computers in my house to play the game and leave my consoles alone, I know, I am the worst uncle, but hey I still got the game for them and while I didn't play it, I still have it to show to you here.
If you choose to give this Peppa Pig game a try, we would love to hear your thoughts in the comments section below.
The game may be included for free if you have a PC Gamepass
What is Peppa Pig: World Adventures game about?
Peppa Pig: World Adventures is a casual adventure children's game that works on your Windows PC. You start the game by embarking on a thrilling journey with Peppa Pig and your family in a vast, lively world. While traveling, make pizzas in Italy, wander along Hollywood Boulevard, ascend the Eiffel Tower, and experience many more adventures across the globe. Construct a unique, dazzling family home and encounter new characters, thrilling quests, and heaps of enjoyment like you've never seen before.
Peppa Pig: World Adventures features:
Create characters for you and your whole family: The game allows you to turn your family members into Peppa Pig characters, including brothers, sisters, and grownups, to include them in your story.
Visit iconic locations: The game offers a world tour where you can visit famous cities like New York, Paris, and London, and engage in various activities like climbing the Eiffel Tower or walking on Hollywood Boulevard.
Interact with Peppa Pig characters: Players can chat and play with their favorite Peppa Pig characters throughout the game.
Customize your family home: The game enables you to build and arrange your own home in Peppa Pig's neighborhood, decorating it with souvenirs and items collected from your world adventures.
Engage in diverse activities: Peppa Pig: World Adventures offers a range of activities, such as visiting a skyscraper, sailing a ship, or hunting for treasure, ensuring a fun and engaging gameplay experience.
Peppa Pig: World Adventures Gameplay Screenshots
Peppa Pig: World Adventures Gameplay Video
Peppa Pig: World Adventures PC Requirements
Minimum OS: Windows 10 64-Bit or Windows 11 64-Bit
CPU: Intel Core 2 Quad Q6600 (2.4 GHz) / AMD or better
RAM: 4 GB RAM or better
HDD: 10 GB HD space
Graphics: GeForce GT 430 or better
Video Memory: 1 GB VRAM or better
DirectX: DirectX 11 or better
Sound Card: DirectX Compatible