Best Photoshop Alternatives for Windows 11
Some of the links in this post are affiliate links. This means if you click on the link and purchase the item, I will receive an affiliate commission at no extra cost to you. All opinions remain my own.
Hello everyone, you will find a list of the best photoshop alternatives for Windows 11, before you do that, I hope you are all doing great,  yeah, I know Monday's are the worst day of the week for most of us, even if you are not going to school or don't have a job. Monday's simply, suck and today is no different for me. I dreaded getting up in the morning but at last, I made it through another day lol, anyway please read on…
Today we will highlight the best Photoshop alternative for Windows 11 and all of them are free to download. We have list of features and screenshots of each Windows 10 app for you to compare and try. Let us begin.
Does Photoshop Work On Windows 11?
Yes! Adobe Photoshop works perfectly on any official Windows OS including Windows 10, Windows 8.1 and of course, the elegant and stable Windows 11. As long as you have a Windows computer/device you never have to worry about Photoshop. Windows is by far Adobe's biggest customer base by far and it will remain like that for awhile.
Pixlr combines image design and paint tools with photo editing and adjustment features more convincingly than any other online image editing program. Whether creating an image carte-blanche, layering one image over another or using a variety of filters, effects and level adjustments to transform photographs, Pixlr is equally capable of producing results on par with many of its software-based counterparts. Yet, despite its deep feature-set, Pixlr remains facile, intuitive and, most importantly, user-friendly.
Pixlr Standard Features:
A fully customizable user interface with movable and scalable windows
Navigation-free drop-down menus featuring all filters, adjustment and layering options
Intuitive design and paint features with a dedicated history window for reference and quick undo/redo
A "Photo Express" portal for quick, simple changes to images and photographs
We had to put Pixlr #1 mainly because it can do a lot of the same things Photoshop can do, not everything, but a good amount. They also have a downloadable version backed by AutoDesk, the makers of those popular computer design tools. It's called Pixlr Desktop and it is actually worth your time to download if you don't want to use the online version we have listed.
Desktop Pixlr Screenshot
Paint.NET is free image and photo editing software for PCs that run Windows. It features an intuitive and innovative user interface with support for layers, unlimited undo, special effects, and a wide variety of useful and powerful tools. An active and growing online community provides friendly help, tutorials, and plugins.
It started development as an undergraduate college senior design project mentored by Microsoft, and is currently being maintained by some of the alumni that originally worked on it. Originally intended as a free replacement for the Microsoft Paint software that comes with Windows, it has grown into a powerful yet simple image and photo editor tool.
Paint.NET Screenshot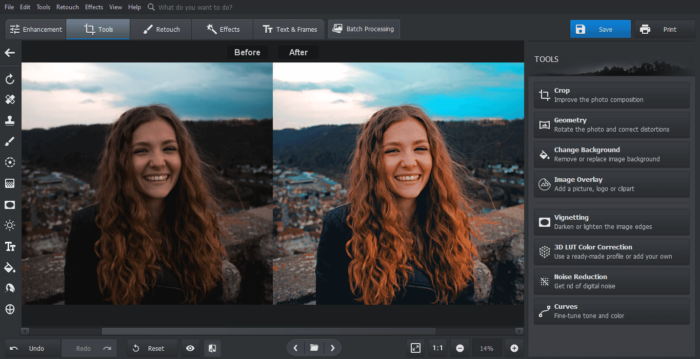 PhotoWorks is a golden means for people who prefer easy-to-operate image editors but want pro-level results. The software offers both automatic and manual editing tools that are intuitive in use and meet the needs of amateur and professional photographers. You can use the editor to enhance colors, remove any flaws and objects from your images, change their background, beautify portraits, digitally reshape your body and face, and much more.
Apart from image editing tools, PhotoWorks offers artistic elements like frames, effects, filters, fonts, and stickers that you can use to decorate your picture, add final touches, or create watermarks. Even though the program is packed with features, all its tools are thoughtfully organized on tabs, so you won't need any previous experience or manuals to find them or figure out how to use them.
Here are some more cool features you will appreciate in PhotoWorks:
Intelligent auto-correction for instant photo enhancement
Professional color editing tools: Curves, 3D LUT, HDR
Batch processing mode for editing multiple photos at once
Portrait magic presets for light makeup, skin tan & wrinkles-free look
Face and body sculpting: slim down waist, build up muscles, etc.
180+ artistic embellishments like fonts, effects, and filters
Built-in library for saving watermark and caption templates
PhotoWorks Screenshot
GIMP is ideal for advanced photo retouching techniques. Get rid of unneeded details using the clone tool, or touch up minor details easily with the new healing tool. With the perspective clone tool, it's not difficult to clone objects with perspective in mind just as easily as with the orthogonal clone.
GIMP is ideal for advanced photo retouching techniques. Get rid of unneeded details using the clone tool, or touch up minor details easily with the new healing tool. With the perspective clone tool, it's not difficult to clone objects with perspective in mind just as easily as with the orthogonal clone.
File formats supported include bmp, gif, jpeg, mng, pcx, pdf, png, ps, psd, svg, tiff, tga, xpm, and many others
Load, display, convert, save to many file formats
SVG path import/export
Gimp Screenshot
The free online image editor Sumo Paint offers users a powerful range of tools and features for adjusting images and producing creative images. Users of offline pixel based image editors like Photoshop will very quickly feel at home when using Sumo Paint. Many of the tools and features that you'd expect are available.
There are quite a number of free online image editors available currently, many of which are designed for more basic users.
Sumo Paint, however, falls into the group of the more advanced editors, which also includes Pixlr Editor and Splashup.
Features of Sumo Paint:
Layer support with blending modes and layer effects
Wide range of tools
Good selection of adjustment features for improving photos
Nice range of Filters for producing creative images
Full screen option for maximum working area
Sumo Paint Screenshot
Fotor's powerful desktop photo editor is the real deal and it has all the tools you need to make every moment you capture look truly great.
Powerful Photo Editing Tools
Fotor's state-of-the-art photo processing engine makes it easy to process high quality photos quickly. Adjust exposure, brightness, contrast, white balance, and saturation, sharpen/blur, add a vignette, or crop, straighten, rotate and more. And new editing tool is Red-Eye Removal.
Flexible text editing tool
You can now add text to any photo. Lots of options to adjust the font, size and color of your text, plus move your words around till it looks perfect!
Stretch your creativity further with Fotor's huge palette of effects and borders. Designed with input from professional photographers and designers, Fotor comes loaded with over 90 effects, including Classic, Lomo, B&W, Art and Vignettes, plus over 33 different styles of frames.
Supports importing and exporting a wide range of image formats, including TIFF, JPEG, and PNG,plus conversion functionality for RAW files.
Fotor Screenshot
Remember to like our facebook and our twitter @WindowsMode.