Some of the links in this post are affiliate links. This means if you click on the link and purchase the item, I will receive an affiliate commission at no extra cost to you. All opinions remain my own.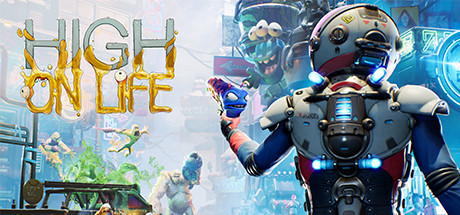 Hello everyone, you can download High on Life for Windows 11 and experience a game that throws you into a world where aliens have taken over and you must do whatever it takes including using talking guns to save the planet.
Today we will highlight some reasons why we think you should definitely give this game a try on your Windows 10 or Windows 11 computers. The game was created by the co-creator of the very popular show Rick & Morty so you can even see from the screenshots and storyline of the game they have some similarities without a doubt. I have just played this game for about 2 hours last night so I don't have much information on this game except that it is does have some adult themed content thanks to the talking weapons that you yield that talk back to you and might even cuss you out depending on what is going on in the game. The graphics are okay, I mean it has a cartoon like vibe to it so don't expect too much real-life like graphics but trust me, the gem of this game is the gameplay and the surrounding environment/world that you are thrown in. I would suggest this game to anyone over the age of 16 and who is a fan of corky alien invasion type games. Let us know in the comments what you think about this game if you decide to try it.
The game may be included for free if you have a PC Gamepass
Install High On Life on Windows
Download High On Life on Windows 11/10 via Steam
Download High On Life on Windows 11/10 via MS Store
What is High On Life Game About?
High On Life is a comedy adventure from Justin Roiland, the co-creator of Rick & Morty and Solar Opposites. The story follows a young person who has just graduated from high school, with no job or direction in life. However, when an alien cartel invades Earth with the intention of getting high off of humanity, this character is thrown into an adventure as a team leader of talking guns. Together, they must become the deadliest intergalactic bounty hunters in the cosmos and take on the villainous Garmantuous and his gang of goons. Along the way, they will travel to different biomes and locations across the cosmos, collect loot, meet unique characters, and more.
High On Life Game Features:
Rescue and team up with charismatic, talking guns to become the deadliest intergalactic bounty hunter the cosmos has ever seen.
Leverage the unique skills of each gun to go up against a variety of criminals as you track down the nefarious Garmantuous and his gang of alien goons.
Navigate dynamic and changing worlds that range from a jungle paradise, to a city built inside an asteroid, the hub of the cosmos.
Complete hunter challenges, meet weird, fun and hilarious characters, collect an array of alien technology.
High On Life Gameplay Screenshots
High On Life Gameplay Video
High On Life PC Requirements
Minimum OS: Windows 10 64-Bit or Windows 11 64-Bit
CPU: Intel Core i5 4th Gen or AMD Ryzen 2400G or better
RAM: 8 GB RAM or better
HDD: 70 GB HD space
NVIDIA GeForce GTX 1060 AMD Radeon R9 290x or better
Video Memory: 3 GB VRAM or better
DirectX: Requires DirectX 12 compatible system
Sound Card: DirectX Compatible