Some of the links in this post are affiliate links. This means if you click on the link and purchase the item, I will receive an affiliate commission at no extra cost to you. All opinions remain my own.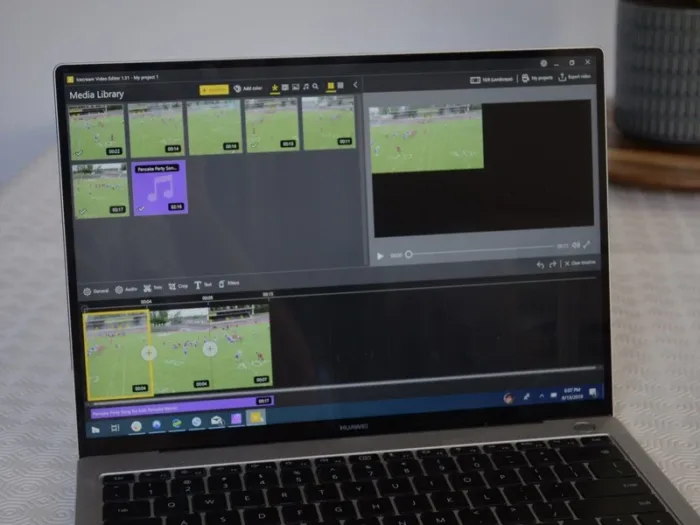 With the world coming to terms with the pandemic, a new era of digitalization has started. Today, people are looking to express themselves through video. Video resumes, wedding videos, travel videos, and others have gained rapid popularity. Brands are also keen on leveraging video to connect with their audience. They use it as a medium of showcasing their products and building a healthy business relationship with the clientele.
These days, the scope of video has seen a rapid improvement, and it is no longer restricted to established firms. Small businesses are taking giant leaps, and people without video editing experience are creating exemplar content. Several simple-to-use Video editor tools have enabled such video creation. In this article, we will discuss the top five video editing tools that you can use on your Windows device.
Clipchamp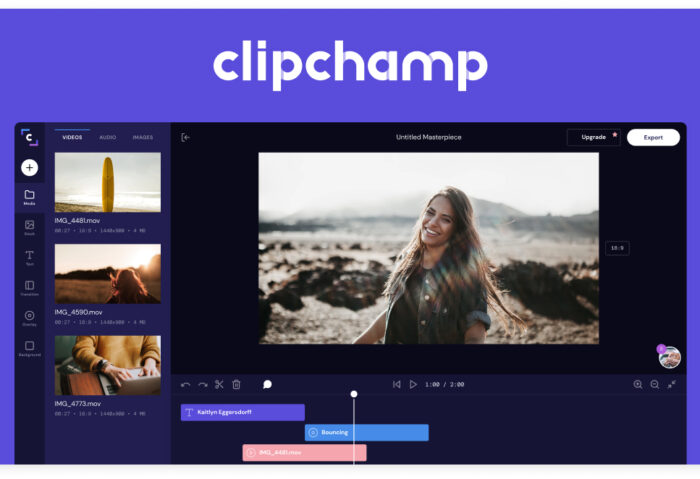 Check out Clipchamp online video editor
Clipchamp is better than just any other video editing tool and lets you go for video compression and compression as well. The tool comes with a webcam recorder that is useful for creating gaming, review, or other such video content. Clipchamp has a simple drag-and-drop interface, and you can trim, crop, flip and rotate the clips to your taste.
The high-precision editing lets you adjust the color contrast, saturation, and brightness. There are several backgrounds, overlays, texts, and transition effects to choose from. The videos that you edit with Clipchamp can be either saved on your computer. You can also directly upload them to Google Drive.
Clipchamp has a built-in guide that is helpful for newbie editors. You can sign up for the tool for free and create videos without any watermark. However, the export quality will be restricted to 480p resolution. Upgrading to paid plans lets you add your business logo to the video, export videos in higher resolution, and explore other features.
FlexClip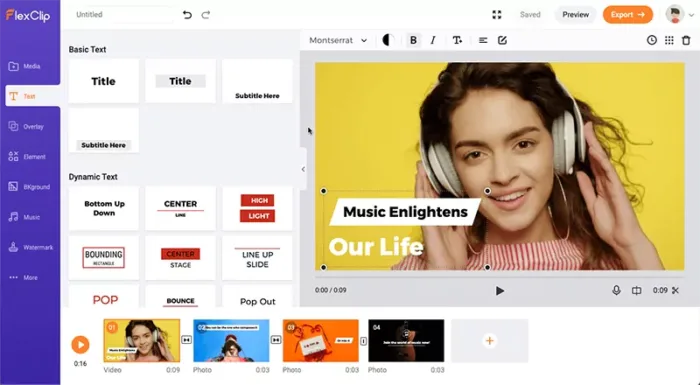 Check out FlexClip online video editor
FlexClip is a powerful video editing tool that lets you create a video in minutes. The drag-and-drop interface lets you upload your video clips, images, and music and personalize your content. FlexClip has a diverse media library consisting of over 2.5 million stock media.
The stock images and video are neatly categorized as business, background, holiday, sports, etc. To improve the visual impact of your content, you can combine your uploaded clips with stock media. FlexClip also lets you overlay textual content on your sequences. That way, you can experiment with impressive effects and elegant fonts to create a unique video.
With FlexClip, you can adjust the size and format of the edited clips to the specifications of the sharing platform. For example, the video specification of Instagram Stories will differ from that of Facebook feed posts. You can color correct the clips, work on color grading and come up with a smooth transition between clips.
FlexClip is simple to use and does not require any signup. Paid plans start from $4.99 per month, making it economically viable for all age groups.
InVideo
Check out InVideo online video editor
InVideo is one of the best online video editor tools of the present times. It has an intuitive interface and lets you choose from over 4000 video templates. Post the selection, you can use text overlays, graphics, stickers, and other elements to personalize the video. It has a rich media library with more than 3 billion images and video files.
This video editor also gives you access to a rich collection of royalty-free music that you can use in the videos. A unique feature of this is its intelligent video assistant facilities. This feature uses AI to make smart suggestions to improve text alignment, animation speed, and other video features. That way, novice editors can create high-quality videos with minimal effort.
It also lets you create videos from the textual content. All you need to do is enter the URL of a blog or paste the textual content. The tool automatically makes a video that will complement a blog or webpage and has an active editing community and offers 24X7 chat support. That way, you can expect handholding if you get stuck in the initial days of your video-making journey.
It also has a free version that lets you use all its features and come up with compelling content. However, the videos will have a watermark and can be downloaded in low-resolution. You can pay $15 per month to upgrade your plan and download HD clips.
PowToon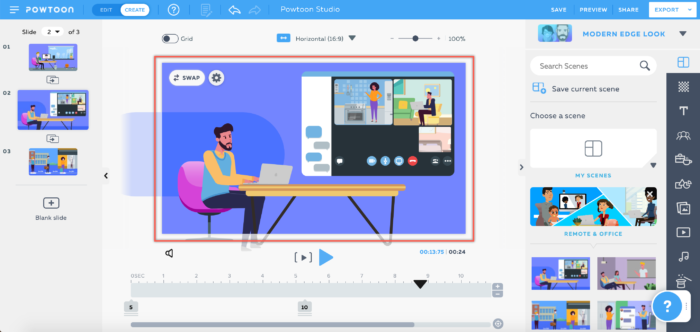 Check out PowToon online video editor
PowToon is an excellent video creator for editing tutorial and explainer videos. Here, you can create digital versions of conventional paper cut-outs of interesting figures and superimpose them on exciting backgrounds. This is useful for creating videos that are targeted at younger demographics.
PowToon has several video templates and lets you create content in 1:1, 9:16, and 16:9 formats. The tool offers several drawings of people and objects. You can superimpose these on a blank canvas or your video clip and give it a fun vibe. The free version of PowToon lets you create HD videos that are up to 3 minutes long. The company logo will exist in such a video, and you can upgrade to premium plans and remove the logo.
WeVideo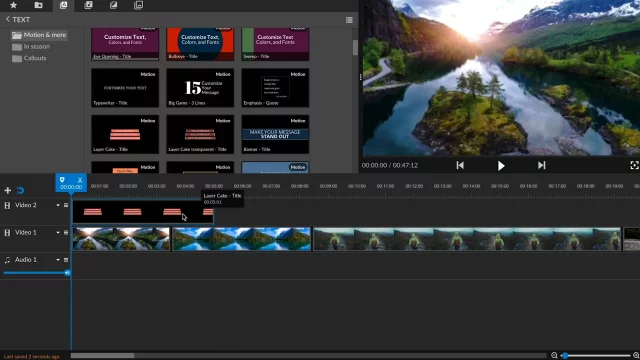 Check out WeVideo online video editor
WeVideo is a simple tool that lets you upload your clips and perform basic editing such as splitting and trimming. You can also add markers to a clip, static simple texts, add transitions, background graphics, callouts, frames, overlays, etc. While the functionalities are limited, the simple interface makes it a perfect choice for beginners.
The free version of WeVideo lets you create 480p quality videos that are up to 5 minutes long. Such videos will have a watermark at the top right corner of the screen. You can upgrade to paid plans starting at $9.99 per month to do away with such restrictions. The paid plans also allow you to work on 4K resolution videos, thus making it an ideal choice for editing marketing videos.
All the above tools are simple to use and have a smooth learning curve. As a newbie, try to spend some time evaluating the different tools and compare their useability. That way, you can find out which of these is the most suitable one for your video editing needs.