Download Social Downloader App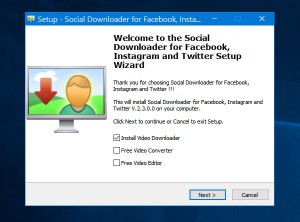 Hello everyone, how are you all doing? I hope you are all having a great week so far. The Weekend has basically arrived, yes I know it's Friday but for most of us, Friday is the start of the weekend. I am right!? But actually, I don't think I will be doing much today. I was thinking of going out but as I look at my watch now, a glance outside my window and a peak at my to-do list, I don't think I will be going anywhere this weekend, I have a lot of sh!t to do lol, anyway, please read on…
Today we will introduce you to an awesome app that allows you to download your Facebook, Twitter and Instagram content, for free! Yes, you can actually download Facebook videos, images and the same with Twitter(its still in beta) and Instagram images & vids. The app is called Social Downloader, not the most original of names but it gets the job done and as I mentioned you don't have to pay anything to use it and it works well on Windows 7, 8.1 and of course Windows 10.
NOTE: THIS APP HAS BEEN DISCONTINUED!
What Is Social Downloader?
Grab the opportunity to have a safe Facebook backup, Instagram backup and Twitter backup directly in your pc before it's too late.
Explore its unique and useful functions as:
Facebook backup: photos (Wall, Albums and Tagged), comments and likes
Instagram backup: photos, videos, comments, likes, tags, friends and followers
Twitter backup: tweets, favorites and friends
All these not-to-be-missed contents will be stored in your pc by this great social downloader to allow a safe social backup of all your and your friend's most valuable data.
Main Social Downloader Features:
Easy Interface.
An easy and fast execution.
Support for multiple accounts.
Spyware & Malware Free.
All the most interesting social contents stored in your pc.
Total privacy granted: user's personal information is never seen, stored and used by Social Downloader.
Works on Windows 10, Windows 8, Windows 7, Windows Vista & Windows XP Compatible.
NOTE: THIS APP IS NOT AVAILABLE ANYMORE